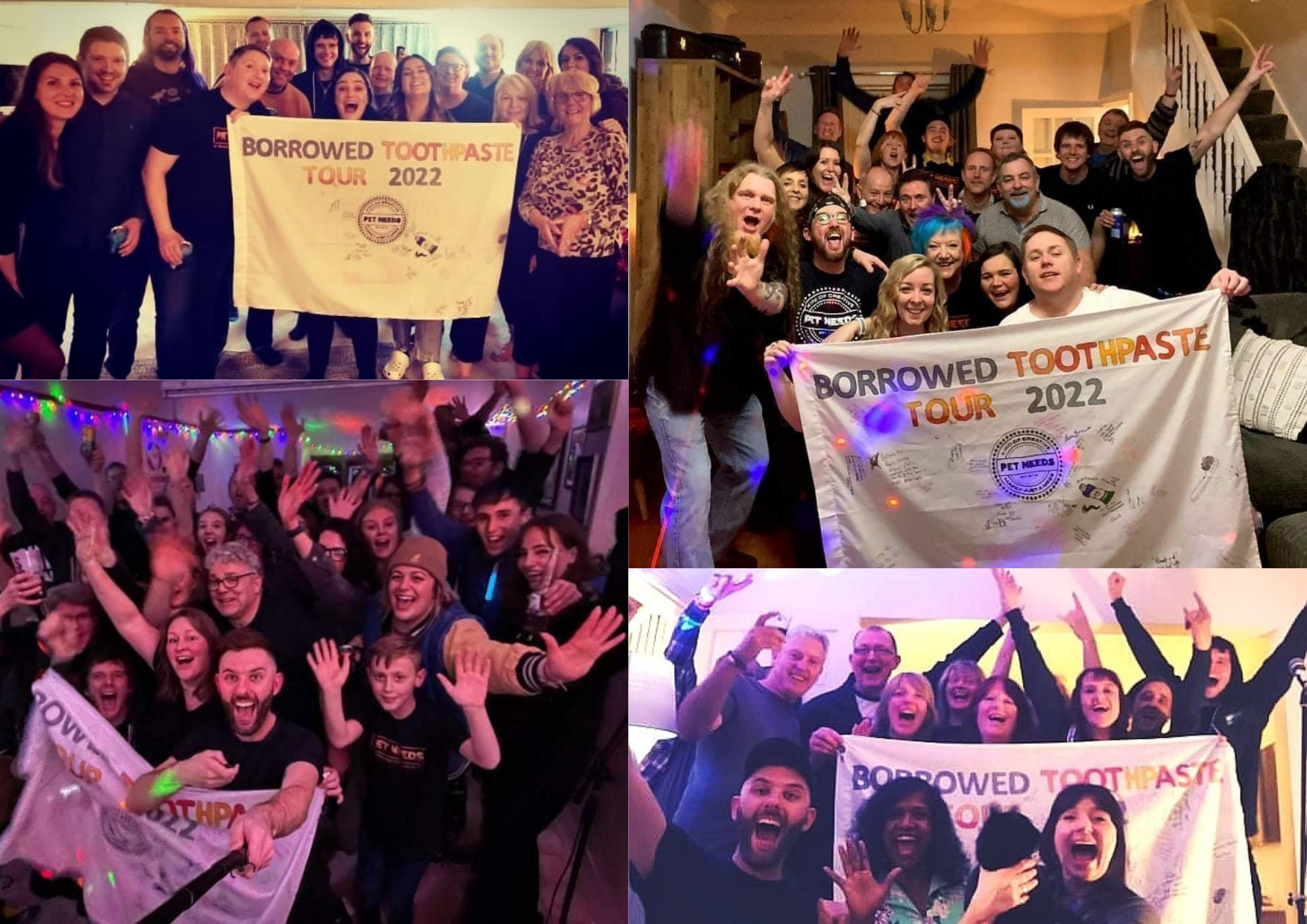 As I sit length ways on my sofa, cocooned in my University of Essex hoodie and trying to find ways to apologise to my liver, reflecting on the last four days feels like recounting a weird dream. A flying visit not just into local towns and venues, but into people's lives. Just me and my bro in a Honda Civic packed from floor to roof with guitars, speakers, merch and gifted energy drinks.  
It started on Thursday 20th January in Medmenham. 
We pulled down the long drive to Iain and Dom's house with wide eyes taking in the beautiful building. Iain was on the doorstep ready to invite us in. I was nervous about how these shows were going to go. When touring big venues with a touring crew, the uniformity of the experience is habitual and routine. You load in and soundcheck at the same time each day, your dressing room and rider are pretty similar, and you know what to expect from the show. Turning up at a house is completely different. 
Iain showed us where we were going to be performing - a beautiful carpeted living room to the left of the entrance hall. We began to load in. The place was exquisitely decorated, and it was awesome to see  fellow Xtra Mile musician Beans on Toast's reductionist art alongside what I imagine to be high-end art and sculpture. As Iain's mother in law turned off the TV and headed to the kitchen to give us space to set up, I was thrown back to childhood when I used to "write" plays for George and my cousins to star in in my Auntie's living room, or cousin's bedroom in Rotherham. I looked at George, who, always the professional, was plugging leads into the desk, twiddling knobs and tapping on the end of microphones to ensure they made a sound. This was bizarre, but cool, I thought.  
As I went to set up the merch desk in the hallway, Trevor arrived. I got to know Trevor and Iain when we played Roundhouse in Camden for Lost Evenings, as they had let me and my wife Lorna (and then me and our bassist Rich on the Sunday), crash at their central townhouse Airbnb opposite the venue. It was great to see Trevor again, who's kind nature and passion for seizing the day had secured him as a firm tour friend from the off. True to form, Trevor had arrived with a crate of lager and a bag of ales to share, ready to start the party.  
Following set-up we were shown to our room - the first of many double beds we would be sharing that weekend. The space had been kindly donated for the night by Iain's stepdaughter Aaryanna and I was delighted to see a black cat curled up on the bed. 
We joined the family and friends for an Indian takeaway, sat at a long wooden table, which is where I met Iain's partner Dom, who was incredibly accommodating and excited for the show. I had opted for a prawn vindaloo of which Dom tried a bit of the sauce. It was delicious, and blew both our heads off! 
The crowd that night consisted of a mixture of friends and family and people from the "Fractured Party People" group who had travelled to be there, so it was a great mixture of new people and familiar faces. The show was great fun - our first ever gig in socks! After our set we dived into some beautiful ales and hung out with new and old friends, setting the world to rights. 
One by one people headed home until about midnight when only a core group of us remained. This was when Iain floated the idea (pun absolutely intended) of us all heading to the hot-tub at the bottom of the garden for some beers under the stars. Before he'd even had a chance to finish the sentence George and I were tearing up the stairs into our bedroom to throw on our trunks. 
We were in the hot-tub for about two hours looking up at the twinkling stars on the clearest of nights. Iain kept us well supplied with beers as we talked, drank and lost track of time. It was one of those "peak happiness" moments. 
The next morning George and I sat up in bed, looked at each other and sighed in unison, "We said we weren't going to go too hard on the first night!" 
We had failed on that account. But we had definitely failed in glorious style! No regrets, you always remember the nights before more than the hangovers anyway. 
A few hours later, crawling down the M4 to Wales, I was starting to think that I would remember the hangover in equal proportion to the night before. As we drove into Wales, everything suddenly became very Welsh, with lots of sheep, slate, hills and windy roads. I got out for a wee and slipped over on probably the most piss-soaked muddy verge in Wales. We got caught in traffic for the last half an hour over a bridge that was so narrow I didn't even think one could push a skateboard over it. My hill start handbrake action was put to the test as we entered Pontypool. Living in Essex, handbrakes are more decorative than functional on account of everywhere being so flat. 
Our venue for the second gig was "Technically Jess' House" in Pontypool, named so as at the time of booking Jess hadn't told her parents that her partner, Gavin, had moved in. I had met Jess and Gavin on a number of occasions at various shows, most recently at the Fractured Party in Colchester, where they had made the trip from Wales to Essex especially to be there. I'm trying with all of my might to not make a lame Gavin and Stacey reference here. 
"We wanted to invite people that haven't seen you live before," Jess informed us excitedly, "So we've invited loads of our local friends, who are all brilliant musicians!" 
A load of brilliant musicians, you say? Ah, fuck! The best of the Pontypool open mic scene were about to descend into Technically Jess' house to see me and George, hungover on a few hours sleep, play punk songs on acoustic guitars! We had a couple of "hair of the dog" lagers, set up the PA system and then headed upstairs to steam my vocals and warm up. We were getting ready early that evening as we wanted to make sure we were down in time for the support act - Gavin's band Oxbowlake. 
As we descended back down the stairs we were greeted by a room full of beaming, chatty people all excited for music to begin. A lady called Claire (with the most amazing rainbow coloured hair), ensured we were constantly supplied with alcohol as we settled in the watch Oxbowlake. 
Who blew us away. 
Oxbowlake are a two-piece acoustic duo who rose from the ashes of a punk band. They consist of Gavin on guitar and vocals and Neil on vocals and dance moves. Gavin had already told me to expect a bundle of energy and charisma in Neil, and I wasn't disappointed. Neil could exist in any part of history. His long beard and hair could see him fit in as a caveman, a Tudor gent, running a Victorian sideshow or managing a hipster bar in Shoreditch that serves exclusively real ale. In the most fitting of fashion their set started with an acapella tribute to the wonders of beer, followed by a host of incredible folk tunes with brilliant choruses and harmonies, my favourite of which being about people getting abducted by aliens (which explains why you sometimes see random pairs of shoes on the side of the road). 
As we were in a room full of musicians, people weren't just singing along. They were harmonising beautifully and shaking tambourines and shaky eggs. The atmosphere was incredible! 
Following their set, I instantly offered for Oxbowlake a show with us in Colchester, and we excitedly discussed the possibility of them hiring a minibus to bring the whole Welsh contingency over to Essex. I avoided any Gavin and Stacey references again. I'd never make such a cheap joke. 
Following Oxbowlake I was absolutely pumped to play. Even though most of the audience hadn't seen us live before, they had fully committed to learning our tunes beforehand and the room was alive with people in "Borrowed Toothpaste Tour" t-shirts dancing and singing at the top of their voices. Our hangovers were but distant memories as the adrenaline and euphoria of such a communal show overcame us 
Following the show we leant out our gear and invited people to get up and sing. The most memorable performance was Jess, our host's rendition of Maria by Blondie, which was hypnotising. I sat on the stairs, nursing a lager (I was determined not to drink as much as the previous night!) and was absolutely blown away. 
The party moved into the kitchen for pizza, where we all hung out and made loads of new friends. A drunk man proudly showed me a picture of some ribs he had cooked on the barbecue that evening and my brother George found a leg twin in Gavin. George discovered at a photoshoot last Monday that he had bowed legs, to which Gavin excitedly informed him that he did too, to the point that he wouldn't be able to stop a pig in an alleyway. 
We went to bed exhausted and elated. George laughed at my Corn Flakes pyjamas. We slept well. 
The next day was Saturday, which for George was important, because it's Derby County day. For those who don't know (who I presume is most  of the people reading this), Derby County are in a bit of trouble at the moment. Point deductions and other financial stuff means that they might not exist as a club soon. And on Saturday we (I use the term "we" loosely - I can't name one player any more) were playing our arch rivals Nottingham Forest. 
Following a stellar fry-up courtesy of Gavin we drove from Pontypool to Weston Super Mare, where we found a sports bar. The smell of stale beer, urine and bleach hung in every corner of the dusty bar and despite there only being two pool tables, absolutely everyone seemed to be carrying a pool cue. It was all very testosterone-y. I tried hard to concentrate on the big screen and nurse my one pint of Stella for 90 long minutes. George advised me not to get too excited if we scored. We watched Derby play terribly and lose two-one then headed back to the car to drive to Yeovil, via the Weston Super Mare seafront where I got much more excited about seeing some massive mounds in the sea than I did at any goal scored that day. 
After almost getting stuck in mud from taking a wrong turn, we pulled up to Sarah's house in Yeovil ready for show number three. Sarah has looked after horses for around 20 years and with the job she got to stay in a beautiful farmhouse the perfect size and shape for holding a gig. The kitchen itself is a great length and width for a shot, and directly to stage left there was a perfect "green room", along with a sign on the door, roaring fire and a backstage dog. The "stage" area was equipped with lights from Sarah's friend Mark and something that all stages should have from now on - an on stage beer fridge! 
The merch stand was out the front in the foyer. It was really fun and brilliant how much the space lent itself to being a venue.  
That evening's set was loud and raucous. People were singing, dancing and chanting from the off, once again dressed in Borrowed Toothpaste tour t-shirts and Fractured Party People hoodies. We used a tour flag that had been made by Emma from Southampton as a backdrop, which had been rapidly gaining messages and pictures at each gig. The set ended with a huge round of Happy Birthday to Trev (from night one back for more!) and Ellie, before we jumped into a final few numbers. 
Following the show Sarah was keeping us well lubricated with black sambuca and beer whilst a load of us sat in a big circle near the fire, lost in conversations about music and life. It had proper late night festival vibes and after a while we were all intoxicated enough to turn on the PA system and invite people to drunkenly sing covers with us like live karaoke. The mic was passed round the room as we collectively beautifully murdering Oasis, Abba and Elvis to name but a few! It was glorious. George and I then decided to play some brand new tunes, terribly, and then sacked that off and smashed out a drunken, ramshackled, heavy version of "Spin-Cycle", which was equally as chaotic, but with everyone singing along! 
The end of the night was a little hazy and I can't really remember people leaving. We all ate fish finger sandwiches, drank the last of our beers and headed up. 
We woke up about 11am the next day, greeted by Sarah, who had a friend she wanted to introduce us to. I peeled myself out of bed and opened the door to be greeted by a huge chicken who had just laid eggs for our breakfast! I was hungover, and the weekend had been so bizarre already, that this was accepted in my brain as completely normal, as the four of us - me, George, Sarah and the chicken, all headed downstairs for breakfast together. 
Our last show was in Ipswich, which ended up being a gruelling five hour drive from the West of England to the East. When we arrived at Fanny's House for Sarah's birthday we were greeted by our great friend Sanjay who burst into giggles when he was us. "You two looked absolutely fucked!" I laughed hard. He wasn't wrong. We were fucked, but gloriously so! The thing about playing a house party tour is that every single night you're at a different house party, so it'd be rude not to go hard, right? 
Sarah, who's birthday it was, alongside Fanny and many of the others in the room, have been following PET NEEDS for years - way before it was cool to do so, haha. As we were setting up, Sarah stated triumphantly, "It's my birthday, so you need to play all your old songs as well as your new tunes!" What followed was a hilarious and fun gig among great friends, where we played well-rehearsed new tunes and guessed our way through old numbers, alongside the help of our mates in the room. It was a perfect way to end leg one of the tour, among the people who had been there from day one. 
The star of the show, however, was an incredible PET NEEDS chocolate cake made especially for Sarah's birthday. I had the world's biggest slice and ate cake and drank strong coffee as George packed down. What a man! 
I dropped George home and returned to see Lorna, who I'd missed terribly. For once, our two cats actually seemed pleased to see me! We headed to bed to watch Peep Show and had at least one cat on the bed all night. It was great to be home.   
We started booking The Borrowed Toothpaste Tour - A 2-piece DIY acoustic tour - on 6th January, exactly two weeks before the first date. The tour was booked and promoted exclusively by FRACTURED PARTY PEOPLE. I am constantly blown away by the collective force of these heroes who embrace life to the point of going, "sure, absolutely!" as soon as such a unique idea is suggested. A case of lock it in now, work out the details later. 
Especial thanks to the following people for the first leg of the tour: 
Iain and Dom for hosting day 1, for the food, beer and hot tub. 
Trev for the beers, Nick Drake and Nirvana CDs and for partying hard. 
Jess and Gavin for being wonderful hosts. 
Claire (with the hair!) for keeping us well watered. 
Oxbowlake for being outstanding! 
Sarah for being amazing and looking after us so well. 
The chicken for the eggs. 
Mark for supplying some amazing ales. 
Lauren for sending homemade brownies all the way from Sheffield to Yeovil. 
Emma from Southampton for making an amazing tour flag. 
Fanny and Sarah for hosting such a warm and welcoming show. 
Julie for the PET NEEDS cake. 
Adam from Cram Duplication for the posters. 
Evan for the tee design. 
Matt from Actifwear for turning the tees around in record time. 
George for being the best co-musician, brother and friend. 
We're home now for a couple of days, then are hitting the road for eight shows in eleven days. If the first leg is anything to go by, it's going to be incredible.